The Pony Pick on Good Things Utah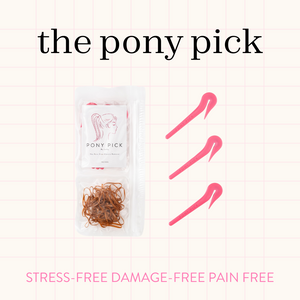 It was such an honor to be on
Good Things Utah
to share all about The Pony Pick!
Our guests this morning are taking the tears out of little girls' fun hairstyles! Lauren and Lindsey from the Pony Pick say they have created a magic tool that gets those little elastics out of hair in just one quick step. The smooth plastic hook with a point on the end simply slides under the elastic and easily breaks then loosens the elastic without it getting caught in little curls or hair strands. There are quick and easy instructions on the website.
The ladies at Pony Pick are also showing off their newest hair line this morning that includes a box complete with everything you need to make hair happy again at your house. The box comes with brushes, a set of combs and a continuous spray bottle. All the essentials any new and/or experienced parent or grandparent needs to do hair. The ladies are hoping this will create more connection for families and less pain when it comes to getting ready in the morning!
The Pony Pick
@theponypick
elastic tie cutter, hair band cutter, hair bands remover cutter